Words and music by Dennis Livingston

WATCH A VIDEO


Performer: David McMullen
Out of the Box:
Black Fox Lounge, Washington, DC 2012

PLAY THE ORIGINAL DEMO RECORDING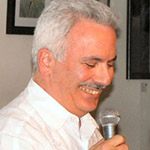 Demo singer: Phil Kassel
Demo pianist: Doug Hammer

PERFORMANCE TIPS:

Length of song: 2:54

Song style/genre: Uptempo comic song set to a bossa nova beat

Key(s): F major to B flat major

Note range (Low/High): Middle C to D in the next octave above middle C

About the song: Is love just as a matter of chemical interaction with neural networks? From the point of view of science, yes. But quantifying something doesn't mean you understand it, as the protagonist of this song wryly contemplates. Maybe being in love isn't entirely a matter of chemistry. And if love is some kind of disease that wrecks havoc on the nervous system, who wants to be cured? (If you want to know what happens after this phase inevitably passes, listen to "Every Time I Look At You, I Fall In Love Again.")

Gender point of view: Irrelevant

CONTACT DENNIS to request sheet music and/or a CD or MP3 for this song. The message should include your name, address, phone (optional), e-mail and your website, if any.