Words and music by Dennis Livingston

WATCH A VIDEO
Performers: Julie Reyburn, Scott Coulter,
Kenneth Gartman, Christina Connors,
Alex Goley
The Stories In My Mind:
Metropolitan Club, NYC 2011



PLAY THE ORIGINAL DEMO RECORDING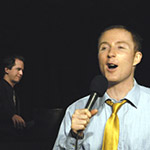 Demo singer: Will McMillan
Demo pianist: Doug Hammer

PERFORMANCE TIPS:

Length of song: 3:19

Song style/genre: Mid-tempo ballad

Key(s): E flat major

Note range (Low/High): D above middle C to E flat in next octave above middle C

About the song: It's not easy being a kid — especially if you're picked on in school, don't make friends easily and feel that the things most kids like to do are pretty stupid. Not surprising that you prefer to get away from it all by reading sci fi adventures. But love of books makes you different too. What to do? Find other kids just as weird as you and share the stories in your mind.

Gender point of view: Irrelevant.

Awards: Finalist in "Barebones" Category, 2004 Austin Songwriters Group

CONTACT DENNIS to request sheet music and/or a CD or MP3 for this song. The message should include your name, address, phone (optional), e-mail and your website, if any.