Words and music by Dennis Livingston

PLAY THE ORIGINAL DEMO RECORDING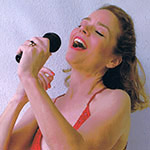 Demo singer: Jody Ebling
Demo pianist: Doug Hammer

PERFORMANCE TIPS:

Length of song: 3:13

Song style/genre: Contemplative, slow, Debussy-like art song

Key(s): E minor to D major

Note range (Low/High): A below middle C to D an octave above middle C

About the song: My cabaret-concert hall crossover number, close to a tone-poem, very impressionist in mood, about the one-world ocean ("all sea" is literally the meaning of the Greek-derived title) that existed in pre-historic times, eventually becoming the Pacific Ocean. A song, also, about deep time, memory, evolution, the sense of an immense past of which we are the inheritors.

Gender point of view: Not relevant.




CONTACT DENNIS to request sheet music and/or a CD or MP3 for this song. The message should include your name, address, phone (optional), e-mail and your website, if any.