By Dennis Livingston
Jerry 101
I usually begin by saying two things to people when talking about my father, pop songwriter Jerry Livingston. "That's Jerry, not Jay Livingston. Jay is a great musical theater songwriter, but he's not dad." And, "you probably never heard of Jerry, but you certainly know his music." When you were a kid, did your mom sing you "Mairzy Doats" or "Fuzzy Wuzzy" to put you to bed? A few years later, did you lap up the wonderful score to Walt Disney's CINDERELLA? Did you ever snap your fingers to the theme song from the television show, "77 Sunset Strip"? Did you have the band play "The Twelfth of Never" at your wedding because it was "our favorite song"? Do you find yourself looking for the standards of past years that still have the power to move and thrill us, songs like "It's The Talk of the Town" or "Under A Blanket Of Blue" or "When It's Darkness on the Delta"?
Yes, these songs, and hundreds more, were all composed by Jerry Livingston. In a career spanning the 1930s to the early 1970s, he contributed to a wide variety of arenas, including the pop world of Tin Pan Alley, movie and television theme songs, music revues and the Broadway stage.
For example, in addition to the CINDERELLA songs - which included Oscar nominee "Bibbidi-Bobbidi-Boo" - he composed "The Unbirthday Song" in Disney's ALICE IN WONDERLAND, a host of songs featured in films made by the comedy team of Dean Martin and Jerry Lewis and the numbers warbled by Nat "King" Cole and Stubby Kaye in the satirical western, CAT BALLOU. Many leading television shows of the 1950s turned to him for their theme music, including HAWAIIAN EYE, BRONCO and SURFSIDE 6, while "This Is It!" opened THE BUGS BUNNY SHOW with a razzmitazz bang. If you know somebody who went to UCLA, they couldn't escape hearing "Sons of Westwood," Jerry's fight song for the school. At the end of his career, Jerry poured his heart into the score for the 1973 Broadway musical MOLLY, based on characters created by show business legend Gertrude Berg.
Jerry's collaborators comprise many of the renowned lyricists of their time, including Marty Symes, Al Neiburg, Mack David, Al Hoffman, Mann Curtis, Milton Drake, Paul Francis Webster, Mitchell Parish and Dok Stanford, among others. On several occasions, entertainment celebrities sought him out as a partner, such as Milton Berle in "I'd Give A Million Tomorrows" and Count Basie in "Blue And Sentimental."
In 1980, Jerry was granted the culminating honor of his career by winning election by his peers to the Songwriters' Hall of Fame.
In recognition of his heritage, Jerry was honored on the one hundredth anniversary of his birth with a tribute show in New York City called, naturally, IT'S THE TALK OF THE TOWN, produced and directed by David Flora at The Triad in March and The Laurie Beechman Theatre in June 2009.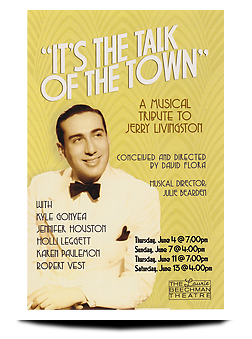 Out of Denver
An interesting family saga lies behind the talent and perseverance that Jerry brought to his work. He was born as "Jerry Levinson" to parents of modest means in Denver in 1909. His father, Sam Levinson, had at one time harbored his own aspirations as an entertainer. At about the age of 19, Sam traveled to New York and became a singer (billed as "The Silver-Voiced Tenor From The Golden West") at a nickelodeon run by one William Fox. It was in this place that he met my grandmother, Dora Lazarus, and returned with her to Denver when she became pregnant with Jerry. In later years, Sam self-published several songs, but never got beyond that. I often wonder how much of Jerry's drive came from some inner desire to show he could make it in a way that his father never did. Or maybe not.
Jerry apparently had musical talent early on. Even as a teenager, he was already playing piano in local bands and hitting the road. In one such journey, in 1932, as the family story goes, the band he was in found their gig in Ohio had been canceled because the hotel had burned down. Jerry could have returned to the hometown girlfriend in Denver. He flipped a coin - back to Denver or continue to New York to seek his fortune as a songwriter. New York won. Unlike his father, he stayed put and within a year or so had three hits ("Darkness On The Delta," "Blanket Of Blue" and "Talk Of The Town"). He never looked back.
Big Band days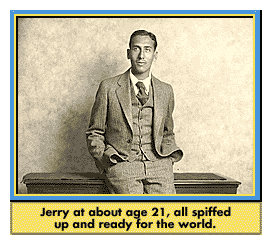 By the late 1930s, Jerry had achieved wide renown. He decided to hop onto the big band craze by starting his own ensemble. At this point, he was advised to change his name because it would sound "funny" for someone to hear "Jerry Levinson and his all star band broadcast from high atop the whatever hotel." Of course, "funny" meant "too Jewish." Much as I might want to report that this bout of routine anti-Semitism left him in anguish, to all appearances he had no qualms, then or later, about making the change.
It was in this period that he also was introduced - by a songplugger getting off an elevator in the Brill Building, no less - to a cute and perky singer, Ruth Schwartz. Performing under the stage name "Ruth Brent," and advertised as the "Princess of Pert," she was all that, along with cute, vivacious and sparkling. Before long, they were an item. When I came along in 1940, Jerry gave up the touring life and returned to his songwriting career. Ruth had already abandoned her life as a singer when they were married, but would remain his lifelong companion and first listener for many of his songs.

Back West
In the late 1940s, another turn of events would change Jerry's life. Walt Disney came to town to audition songwriting teams for a feature animation he was planning about CINDERELLA. At the time, a novelty song called "Chi-Babba Chi-Babba (My Bambino Go To Sleep)" was on the air everywhere. It caught Disney's fancy and he wanted to meet the authors - Jerry, Mack David and Al Hoffman. They must have put on a great audition, garnering the plum job of writing the music for the movie.
The time Jerry spent in Los Angeles convinced him that the music industry was moving west, and it was enough already with New York winters. In 1952, we all headed for LA, where Jerry extended his work to the worlds of film and television. He was always a modest, unassuming guy and was never interested in travel or vacation - from what? one might ask - but his one splurge was to buy the first and last house he and Ruth ever owned, on North Rodeo Drive in Beverly Hills. Surrounded by a nearby coterie of other songwriter-friends, including Mack David and Paul Webster, at the height of his career, Jerry was content.
It would be pleasant to end the story there. But the reality of changing musical tastes inevitably caught up with Jerry and his crowd. The coming of rock 'n roll, the advent of the singer-songwriter, the use by movies of soundtracks instead of original material, all conspired to devastate Jerry and many in his generation of Tin Pan Alley stalwarts. As he put it glumly, "the phone stopped ringing." Death of a salesman time. But not quite. In one last grand gesture, he joined a team that brought a musical to Broadway in 1973 - MOLLY - then endured an early closing. He never wrote another song.
Before his death in 1987, Jerry requested no memorial or special service be held. He cared nothing for such things. And why not? His true legacy is a collection of songs certain to bring laughter and joy to generations of music lovers yet to come.
Other Jerry Livingston pages:
LISTEN TO A FEW OF JERRY'S SONGS